A paradigm shift
CRESCENT VALLEY, NEVADA. At Barrick Gold's iconic Cortez mine, one of the world's largest roadheaders is steadily cutting two new declines to the lower section of the operation's underground deposit.
Nestled between the snow-covered Cortez Mountains and the Shoshone Range, the Cortez gold mine has been synonymous with United States gold mining for decades. Cortez is Nevada's longest continuously operated gold mine and the largest gold producer in the state, which is responsible for nearly 80 percent of all gold mined in the US. The Cortez area has been actively mined since the discovery of silver in 1862 and modern-day gold production started from the Cortez pit in 1969. Since 1997, the mine's Pipeline open pit and Cortez Hills open pit and underground operations have produced more than 20 million ounces of gold. Cortez has consistently been one of the world's top 5 gold producing operations, churning out 1.06 million ounces of gold in 2016. Production is expected to increase to between 1.25 and 1.29 million ounces in 2017, and although ore has historically been sourced primarily from open pits at Cortez, the mine is shifting its focus to an expanding underground operation while aiming to maintain annual production levels of more than a million ounces over at least the next decade.
In late 2016 Barrick Gold turned to contractor Drill Tech Drilling & Shoring, Inc. to develop new twin portals that will help increase production from the Cortez Hills underground and enable additional deep-level exploration to further extend mine life. The Range Front declines will enable efficient access to the Deep South project within the Lower Zone of the Cortez Hills underground. Deep South is expected to produce an average of more than 300,000 ounces of gold each year between 2022 and 2026.
Drill Tech
Founded in 1994, Drill Tech Drilling & Shoring, Inc. is a full service engineering contractor with a focus on specialty geotechnical construction projects. Headquartered in Antioch, California, and with offices in Corona, California and Dallas, Texas, Drill Tech specializes in tunnelling, earth retention, foundation support, shaft construction, ground treatment, dewatering and architectural shotcrete.
Barrick chose mechanical cutting instead of traditional drill-and-blast to develop the new portals to its underground operation at Cortez, the first time a roadheader has ever been used at the mine. The company is also set to introduce a roadheader in ore production at its nearby Turquoise Ridge gold mine later in 2017. It's a paradigm shift towards continuous mining that Barrick expects will bring significant economic and safety benefits to its Nevada operations. Roadheader does it better Jim Wieser is the safety manager for Drill Tech on the Cortez contract, the company's lone mining job among more than 100 projects started in 2016. "Driving tunnels, sinking shafts, whether it's for a water tunnel or for a gold mine it's all the same," Wieser says. "The principles don't change a bit." Despite spending nearly his entire 40-year career in drill-and-blast development, Wieser became an instant believer in the advantages of mechanical cutting during his first roadheader project tunnelling through high-pressure shale in Wyoming. "Our first 800 feet was drill-and-blast and we used a roadheader for the rest of the mile-long tunnel," he says. "In 10 years we rehabbed the drill-blast section four times and the roadheader section looks like it was just cut and bolted yesterday. Roadheaders are definitely better for long-term development."
"
You know, I hate to admit it, but I finally found something electronic that can do a job better than I can
Roadheaders are often a more cost-efficient alternative, eliminating the need for drilling, blasting and mucking and reducing ground support costs. Rock is conveyed directly onto haul trucks as the roadheader continuously carves out an extremely accurate tunnel, minimizing overbreak. "With the roadheader you just don't see the blast damage," Wieser says. "You don't shock the ground.
You're just carving it out and it gives you a much better profile to put your ground support in. Your grade is cut perfectly. It's easier to keep your road beds in, keep your ramps in shape. There's a lot of benefits to roadheader versus drill-blast – if you have a machine that can cut the rock." 'A great machine for the harder-type material' Weighing 125 tonnes, the Sandvik MH620 cutting the Range Front declines at Cortez is one of the world's largest roadheaders. A 300-kilowatt cutting motor drives twin rotating cutter heads that are manoeuvred by a large hydraulically-operated boom. Wieser, who's operated smaller roadheaders from Sandvik predecessors Voest-Alpine and Dosco in previous projects, estimates some of the hardest black limestone Drill Tech has encountered at Cortez to be in the 12,000-15,000 PSI range. "The MH620 has no trouble cutting it," Wieser says. "The roadheader itself stays stable and doesn't move around and jump around and beat itself to death. It's a great machine for the harder-type material." Sandvik MH620 features the most modern version of the OEM's automatic cutting system – nicknamed AutoCut – designed to enable a consistently accurate profile that reduces ground support costs. Improved roadway quality also helps reduce the risk of slip, trip and fall injuries. The AutoCut system guides the cutter boom to cut the required roadway section within a pre-given profile contour. The roadheader's PLC calculates necessary boom cutting traces based on input parameters selected by an operator defining profile size and geometry. Wieser has worked with crew lead Darin Davison on three other roadheader projects.
"After he first cut with the AutoCut, and Darin's a 30-year mining guy, said, 'You know, I hate to admit it, but I finally found something electronic that can do a job better than I can,'" Wieser recalls. "He said, 'I love the AutoCut, because it just gives you a perfect profile.' "There's no room for cutting a little more here and a little more there. It just cuts it to perfection and we've seen that in the survey. The only way you can tell if there is a survey line is where it crosses the drift it parallels the design dimensions perfectly."
Sandvik MH620
The electrically-powered, crawler-mounted Sandvik MH620 is one of the world's largest roadheaders, equipped with a modern automatic cutting system and engineered for economical excavation of hard, abrasive rock with compressive strengths exceeding 120 MPa. A robust, hydraulically stabilized telescopic cutter boom optimizes cutting power, ensuring rapid roadway development.
Extending the life of Cortez The Range Front declines are expected to take three years to complete. Each decline is projected to be at least 7,200 feet (2,200 metres) long and Barrick plans to install a conveyor in the east decline to transport ore to the surface at a significantly cheaper cost than haul trucks, which will still be used underground for moving muck to the conveyor and for backfill. "The tunnels have to be straight," Wieser says. "Extremely straight. If you're off just a little bit that conveyor isn't going to fit in that tunnel and come all the way out." To develop the declines, Sandvik MH620 loads the cut material into Sandvik TH430 trucks for transport to surface. Metal ducting that will improve ventilation underground is installed section by section as the roadheader advances.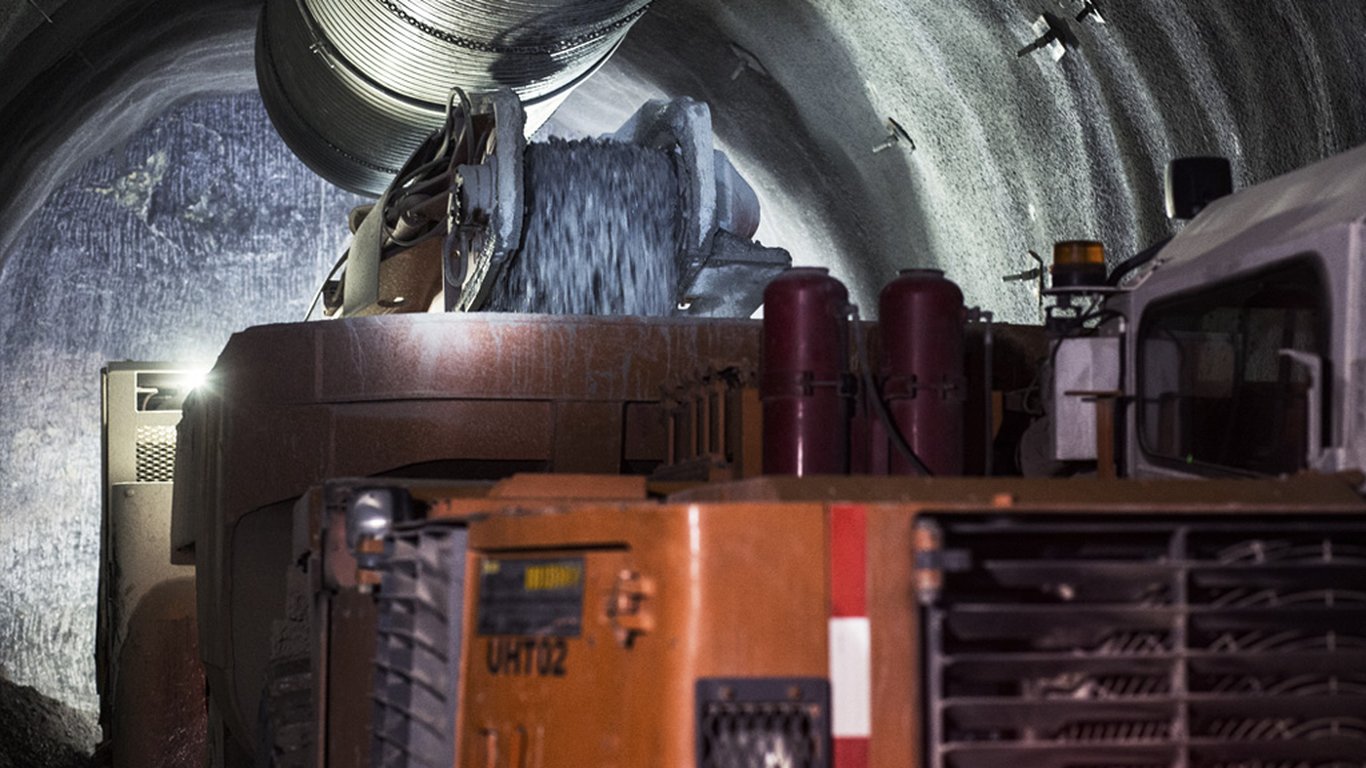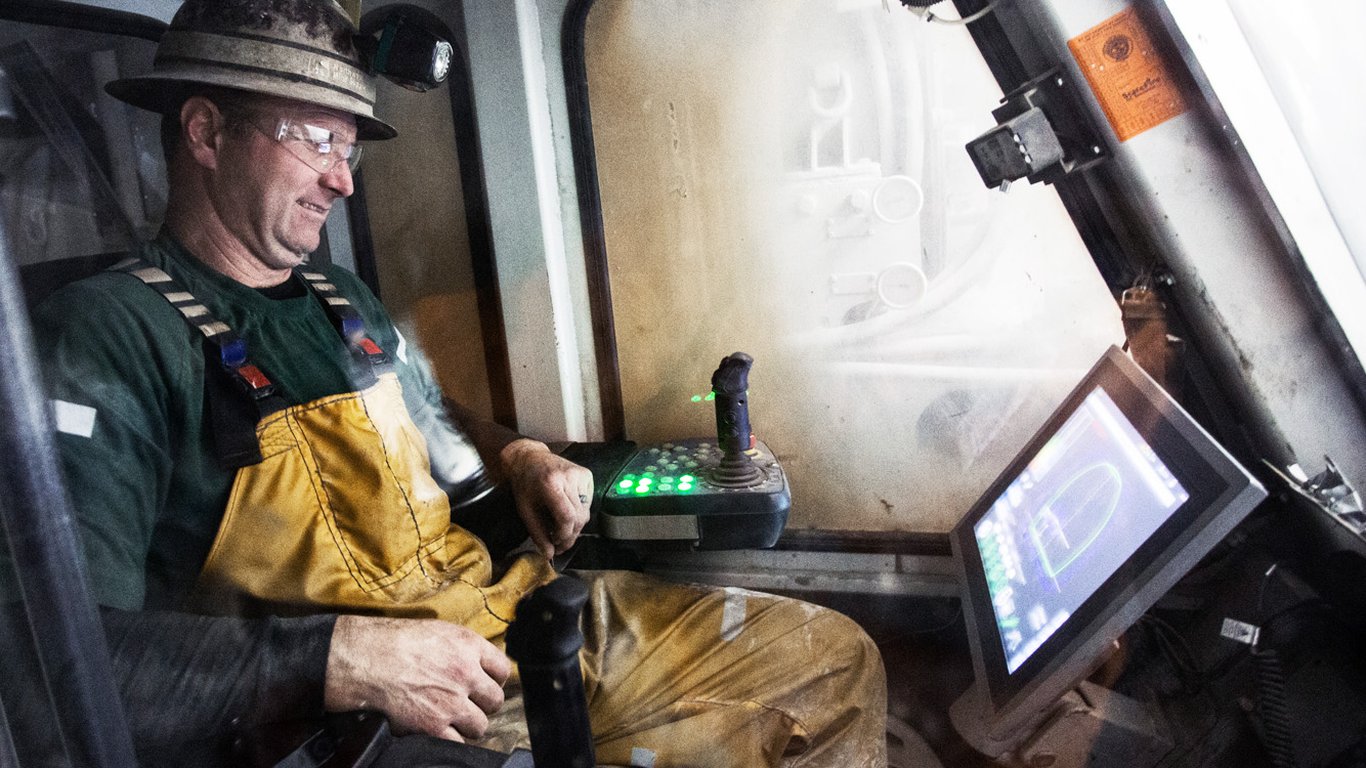 "We're maybe one, two percent overbreak, or maybe under," Wieser says. "It's cutting a very, very nice tunnel." Drill Tech celebrated six injury-free months at Cortez on March 17, 2017. "Nobody's had so much as a scratch," Wieser says. "We're very proud of our workforce and the job they're doing here. I believe Barrick's very pleased with our performance, both health and safety-wise and production-wise. It's a good marriage here. We're having fun. We have a lot of fun here. We really do."
Cortez mine
Located 100 kilometres southwest of Elko, Nevada, Barrick Gold's Cortez mine is the largest gold producer in Nevada and has been in production longer than any other gold mine in the state. The operation, which employs about 1,250, includes the Pipeline open pit and Cortez Hills open pit and underground. Cortez produced 1.06 million ounces of gold in 2016 and 2017 production is expected to be 1.25-1.29 million ounces. Proven and probable mineral reserves as of December 31, 2016 were 10.2 million ounces of gold (151 million tonnes, grading 2.11 grams per tonne).